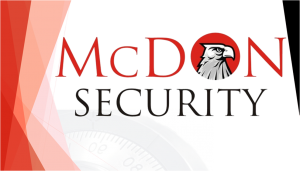 McDon Security is a Nigerian Registered, and Licenced Private company with Head Office in Lagos, and Operational Offices at Abuja, Asaba, and Port Harcourt. McDon provides security services to individuals, businesses and other clientele.
At McDon, we believe that your security is important, and should be the least of your worries when you Partner with Us
Our Vision is to lead in the delivery of Reliable Security Solutions
Our Mission is to Secure People & Assets in a Safe, & Trusted Manner
Our Core Values are – Safety, Trust, Innovation, and Partnership (STIP)
McDon services range from a one-off to long-term support in developing a company-wide security risk management solution that can be reflected in all aspects of an organisation's operations. McDon core service offerings are:
Manned Security Guarding (Guards)
Executive Protection (Close Protection for At-Risk Personnel)
Secure Logistics (Armed Police Escort, Airport Meet & Greet, Journey Management)
Incident Investigations
Background Check, and Due Diligence
Security Equipment (CCTV, Alarm System, Time & Attendance, Access Control System, Bollards, Scanners, etc.)
Security Training (General Security Awareness, and Topic Specific Security Training)
General Security Solution Consultancy
And at McDon, we practice the Deter, Delay, Deny, Detect, Defend & Report (5DR) methodology, which is effective in most crime prevention.
McDon is the solution provider you can trust. We are reachable, flexible, and Solution Driven.
… beMcDonSECURE® … beSAFE®